Section 21 of the Rights of Persons with Disabilities Act, 2016 states that every establishment (Government or Private) is required to notify equal opportunity policy and shall register a copy of the policy with Chief Commissioner or the State Commissioner.
Section 22 states that every establishment must maintain records of persons with disabilities. 
No establishment can be granted permission to build any structure if the building plan does not adhere to the rules formulated by Central Government and no establishment shall be issued a certificate of completion or allowed to take occupation of a building unless it has adhered to the rules formulated by the Central Government.
Additionally, Government establishments have to take several other measures as well:
Every Government establishment has to appoint a Grievance Redressal Officer and inform the Chief Commissioner or State Commissioner about the appointment of such officer. Any person aggrieved may file a complaint with the Grievance Redressal Officer, who has to investigate it and take up the matter with the establishment for corrective action. The Grievance Redressal Officer has to maintain a register of complaints. 
Every Government establishment must have reservations as per Law. 
All Universities have to promote teaching and research in disability studies including establishment of study centres for such studies.
We can, therefore, assist with the following Services:
Looking for Diversity? Looking to hire Transgender Persons?
Check Out Our Publications
5th Nov 2020
India's Trajectory in Mapping GBTQIA rights | India-Chile Youth Forum, Global Youth in collaboration with International Legal Council, Global Youth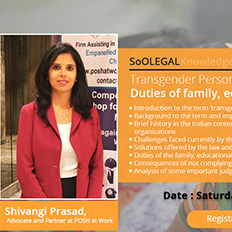 5th Nov 2020
Transgender Persons (Protection of Rights) Act, 2019: Duties of family, educational institutions and employers | IDEX Legal