FULL DAY INTERACTIVE WORKSHOP
Discussion on Grey Areas: The Sexual Harassment of Women at Workplace (Prevention, Prohibition and Redressal) Act, 2013 is a great piece of legislation with great intention but like all other laws, this law also suffers from several practical challenges.
Some of the teaser questions for you to think: What happens when a complaint is oral but redressal is sought? What happens when the employer threatens you to give recommendations in favour of the harasser in spite of clear evidence against him? Can a complaint by an employee of a relationship (any physical display of affection) between two other employees be treated as a complaint of sexual harassment? Does the law apply to the management of a temple? What does legal assistance entail? Are students employees when it comes to application of the law to schools and colleges? Are  internal complaints committee members protected under the Law?
Other than the above, the bonus is, you get to meet new people and connect with the like-minded lot!
CERTIFICATION BY POSH AT WORK. AFFILIATION WITH POSH AT WORK WILL BE CONSIDERED.
On: 6th May, 2017 (Saturday)
Time: 10 a.m. to 5 p.m. (Lunch & Networking from 1:00 p.m. to 2:00 p.m.)
Location: Mumbai (We will share Venue details on 3rd May, 2017)
Details of Trainers:
Shivangi Prasad, (Advocate – High Court, Legal Consultant, External Member): Shivangi Prasad holds a B.L.S.LL.B. Degree from the prestigious Government Law College, Mumbai. She is an advocate, specialising in corporate laws and laws related to women and child rights, including the law on sexual harassment of women at workplace. She provides her expert legal advice on these laws and several organisations are supported by her presence as an external member of their Internal Committee (IC). In 2015, she co-authored a book titled 'Handbook on the law of Sexual Harassment,' which was published and marketed by Thomson Reuters. The key objective was to provide a legal commentary for legal practitioners & practical handbook for company managers in human resource, administration and compliance functions, directors and IC members. The book is also available online on Amazon and Big Book Shop.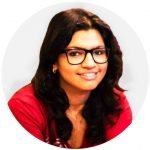 Sana Hakim (Advocate – High Court, Litigation Expert, External Member): Sana Hakim holds an LL.B. Degree from the prestigious Government Law College, Mumbai and a Masters of Law Degree from the Mumbai University. She specialises in family and criminal laws especially laws related to crime against women such as sexual harassment, domestic violence etc. She has several years of experience in practising in the Bombay High Court, Sessions Court, Family Court and various Magistrate Courts around Mumbai and Thane. She has conducted several talks & lectures on sexual harassment, played an active role in conducting inquiry in various cases and facilitated filing of criminal complaints, F.I.R (if required) and briefing and counselling on legal consequences of filing false complaints and prevention thereof. She is also visiting faculty in a Government aided Law College since 4 years and teaches the degree as well as Diploma courses.
Samriti Makkar Midha (Clinical Psychologist, Corporate Trainer, External Member): Samriti Makkar Midha is a trained & practising Psychologist (Clinical)  with extensive experience of working with a diverse adult population on a breadth of personal and professional issues. Her work covers areas of self-development, emotional regulation, workplace issues, inter-personal relationships,  emotional abuse in significant relationships, domestic violence, mental health and coping with critical situations. She has over 3000 hours of counselling experience & has conducted over 400 seminars. Samriti serves as external member of IC of several companies. She conducts organisation wide training sessions to educate employees, managers & IC about their roles and responsibilities in prevention and redressal of sexual harassment at workplace. As a trained counsellor she provides a deeper understanding of psycho-social factors of abuse and harassment for both the complainant & respondent.
Fee: Rs. 10,000
Before making the payment, kindly provide us with the following details:
 [contact-form-7 id="1909″ title="Training workshop on Role & Functions of Internal Complaints Committee (ICC)"]
You can now Click Here to make the Payment: